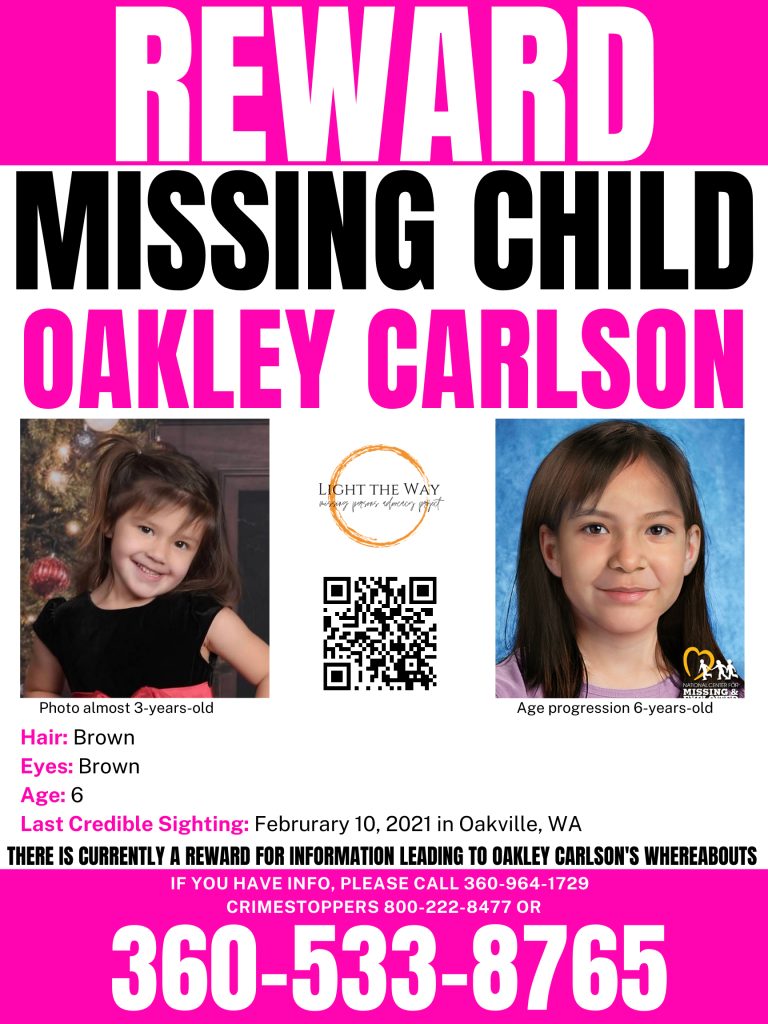 Today, with a heavy heart, we delve into the disappearance of a very young soul, cherished by her foster parents but seemingly neglected by her biological kin. As we approach what would have been Oakley Carlson's 7th birthday and mark the two-year anniversary of her disappearance, we embark on a journey to piece together the haunting puzzle of her case.
Special thanks to the Light the Way Advocacy Project and Haley Gray for making this episode possible.
Content Warnings: Unsolved Case, missing or murdered child, domestic and child abuse
Sponsors:
'Tis the season for happy feet – TRUECRIME20 for 20% off at www.babyfoot.com!
If you want to help:
Anyone with information is asked to call Detective Sgt. Paul Logan at 360-964-1729 or by email at sodetectives@ co.grays-harbor.wa.us, or call Crimestoppers at 800-222-8477
Voice your opinion to WA DCYF Secretary Ross Hunter at ross.hunter@ dcyf.wa.gov
Justice For Oakley: https://justiceforoakley.wixsite.com/home
Oakley Carlson – Oakville, Washington Facebook Group https://www.facebook.com/groups/606006277277514
Connect with Us:
Enjoying our podcast? We'd greatly appreciate your review on Apple Podcasts or your preferred platform.
Stay updated by following us on social media:
Twitter: @TrueCrime_Cases
Facebook: facebook.com/truecrimecaseswlanie
Instagram: @truecrimecaseswithlanie
Visit our website for more information and to share your episode suggestions at truecrimecasespodcast.com, or get in touch at tcfcpod@ gmail.com.
Credits:
Research by Haley Gray of https://haleygrayresearch.com/
Writing by Jesse Hawke from the Inky Pawprint.
Content editing by Lanie Hobbs (yep, that's me again!).
Audio Engineering by the talented Neeks at We Talk of Dreams; find him on Twitter @we talk of dreams or visit https://theinkypawprint.com/
Case Cracker Elite – Patreon Producer – Kim McDermott
Podcast: Play in new window | Download
Subscribe: Google Podcasts | Spotify | Pandora | iHeartRadio | JioSaavn | TuneIn | Deezer | RSS