Anthony Sowell is better known as the Cleveland Strangler. He is a convicted murderer who took the lives of 11 women and raped at least 4 women who were able to get away with their lives. Join me and Haley from the new podcast, Murder Road Trip as we delve into a discussion on one of the most sadistic murderers. We hope you enjoy the bonus episode.
Listener discretion is advised –
Thank you for listening, If you enjoyed this episode, please be sure to subscribe, rate & review on Apple Podcasts or your podcast app of choice- it really helps us out.
You can find us on most social media platforms:
Twitter: @TCFCpod
Facebook.com/tcfcpodcast
Instagram tcfc_podcast
And of course, our website is Truecrimefanclub.com
Music for the show: @WeTalkofDreams
Audio Engineering: Chaes Gray Music
Look out for updates from Haley's new podcast: Murder Road Trip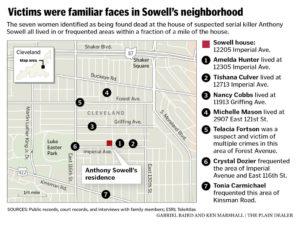 Podcast: Play in new window | Download
Subscribe: Google Podcasts | Spotify | Pandora | iHeartRadio | Stitcher | JioSaavn | TuneIn | Deezer | RSS